aka Carrot Soup with Ginger and Lemon
Note: no animals were harmed in the making of the following recipe. I just call it "Bunny Soup" since it's made with carrots, and my little bunnies LOVE it!
1/4 cup (1/2 stick) butter
1 1/2 cups chopped onion
2 tablespoon finely chopped peeled fresh ginger
1 1/2 teaspoons minced garlic
3 cups chopped carrots
2 tomatoes, seeded, chopped
1 1/2 teaspoons grated lemon peel
3 cups chicken stock (I obviously used vegetable stock instead)
2 tablespoons fresh lemon juice

4 tablespoons sour cream
1 small carrot, peeled, grated
Melt butter in heavy large pot over medium-high heat. Add onion; saute 4 minutes. Add ginger and garlic; saute 2 minutes. Add chopped carrots, tomatoes and lemon peel; saute 1 minute. Add 3 cups stock and bring to boil. Reduce heat, cover partially and simmer until carrots are very tender, about 20 minutes. Cool slightly. Puree soup in batches in blender. Return soup to pot. Mix in lemon juice. Season with salt and pepper. Ladle into bowls. Top each with sour cream and grated carrot.
It's very tasty. Creamy, yet not too heavy. The ginger is just delicious!
I love the color... it would be lovely for an autumn lunch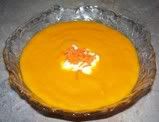 My taste-testers... Isaiah couldn't get enough of it!